Summary
An augment reality mobile game that helps students become aware of local community needs and donate to multiple charities at once.
Time
10/2016 - 12/2016
Duration
7 Weeks
Team
Michael Frampton,
Wei-Hung Hsieh,
Erica Queen
Sponsor
Jonathon Bergeron
@Electronic Arts / Popcap
My Responsibilities
Interaction Flow, Prototyping, Character/Item Design, Storyboard Illustration, Research
Tools
Framer, Illustrator, Sketch
Process
This is an unfinished project which focuses on the research and ideation of a mobile app that gamifies behavior change.
Good Aim is an augmented reality game where players explore their community collecting items to defeat monsters. Monsters are located all over, and represent specific charity needs—such as education or environment.
In Good Aim, local charities will be able to opt in to the game in the form of virtual shops. These shops will provide the charities with an interface to inform players and solicit help. This is especially helpful for smaller charities that lack a strong mobile presence.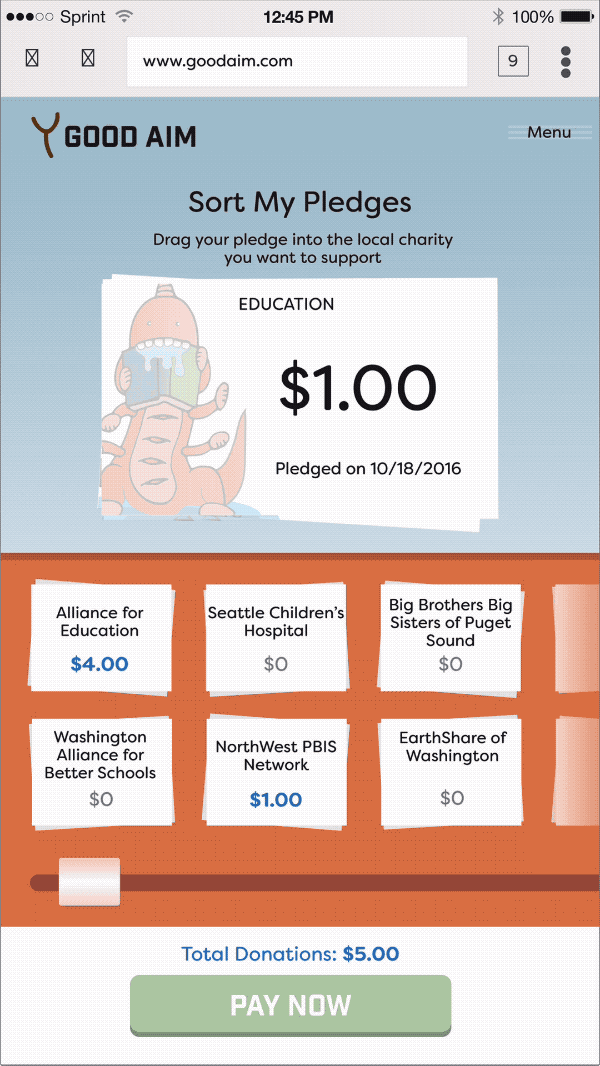 After defeating a community boss or regular monster, or visiting a shop, players will be prompted to pledge a micro-donation. These micro-donations will be logged to their profile and tied to our secure donation website. This is a workaround we found because all the major app stores ban in-game rewards for donating.
INTERACTIVE PROTOTYPE
I built this prototype with Framer.js to test the basic look and feel of the game.
HOW TO PLAY
Drag the background to pan across the AR environment and explore.

Click on items to collect them.

Drag items down to shoot them at the monster (It's like slingshot).

Click on the tag above charity shop to see details.

Click on the monster to see its detail information.
GOAL
Defeat the monster with collected items, and purchase Serum from charity shop.
1. RESEARCH
Good Aim! was the final project of our Ideation Studio, which focused on exploring a wide variety of ideation methods.
Project Prompt
Create a mobile app that gamifies behavior change.
Initial Direction: What behavior are we going to change?
To begin choosing a focus for the project, we conducted a brainstorming session to identify personal behaviors that can be changed. Then we challenged all the assumptions one by one, and found that our team valued Level of Impact (environmental benefits versus societal or personal) and Long Term Focus (intrinsic value change versus acquiring simple skills or changing decision making process). We decided to map all the ideas onto a 2x2 matrix with Level of Impact on x-axis, and Long Term/Short Term Focus on y-axis.
This helped us focus our initial direction on Random Acts of Kindness (RAKs), Volunteering, and Charity as means of creating personal growth while benefiting society. We also felt those ideas had the greatest opportunity for long term behavior change.
Secondary Research
With our initial direction in mind, we did literature review including studies in charity, behavior change, and game.
Charity Theory 1
Scope Insensitivity: Make problem solvable at individual level
Scope insensitivity is bias that occurs when a problem seems too big or unidentifiable. To avoid this, we embodied select community issues in the form of a monster to make the problem more personal & close to home [1].
Charity Theory 2
Charity Happiness Cycle: Happy people give more
Emotional happiness was important. Known as the Charity Happiness Cycle, happier people give more, then feel happier, and then give more [2]. This feedback loop helps increase player retention rates and creates a positive impact on the mental & emotional lives of players. Therefore, our game theme needed to be cheerful and playful.
Behavior Change Theory
Social Learning Theory: Peers will encourage behavior change
Social learning theory taught us that people will try to imitate their role models [3]. To that end, we incorporated group play elements in our game.
Game Theory
Player Lifecycle: Keep players motivated with different levels
Every player will pass through three stages in their game life: newbie (onboarding), regular (habit building), and enthusiast (mastery) [4]. A good game needs to take care of all levels of player to prevent them from being bored.
Popular Media Scan
By conducting popular media scan of magazine covers, we found several common themes regarding our problem space, such as using philanthropic celebrities as role models, or showing the images of someone in need to encourage sympathy. This helped us understand key phenomena and major focus of popular media in our problem space.
Mindmap
We summarized our understanding of the space we explored, including behavior change, game design, and altruism/pro-social behavior related theories in the form of a mindmap. It not only helped us visually summarize the problem space we knew, but also made it easier to see how major concepts interact with each other, laying a good foundation for our next step: ideation.
In this phase, our goal was to generate as many ideas as possible, narrow them down to 18 ideas with thumbnails, and then pick out 3 top concepts to develop detailed storyboards and sketches.
We did a 6 hats critique on these 3 concepts, and determined that the augmented reality charity game seemed to have the most promise, while the other 2 ideas suffered from low feasibility of self-reported volunteer work.
Log your volunteer hours, and grow your little planet!
After volunteering, you log your working hours with simple taps in the app. As you gain more hours, your planet will grow from a bleak desert land into a wonderland full of vitality. You can swipe and zoom in to check out your friends' planets, and see your ranking among friends on the leaderboard.
Compete with your friends to build the happiest planet!
Challenge a group of friends to a game of Last Man Standing!
Players take turns challenging others to complete an act of kindness. Each player must then perform the act before the timer runs out. If the act is not completed, the failing player's island will sink a little deeper into the ocean. Keep going until only one player is left above water!
When appropriate, challengers may require photo evidence that the act was completed.
Play with your close friends, family, or a group of random strangers!
Make micro-donations in the augmented reality world to turn virtual creatures back into humans!
Use the camera on your phone to search for virtual creatures and scavenge treasure items in real time street view. Throw items to creatures (like throwing Pokéball) and turn them back into humans.
Each item equals a small portion of donation, which could either be sponsored by charity organizations, or funded by in-app purchase from players. The creatures correspond to real world POI and unsatisfied needs for donation, such as humanitarian organizations, hospitals, or charity events. Players can also work together to beat stronger creatures.
We decided to give our game a playful and cheerful theme, in order to promote charitable behavior by taking advantage of Charity Happiness Cycle. We created this moodboard to set the tone and manner.
Monster Design
There are three categories of monsters/items in Good Aim. Each category stands for a special charity need, and is also tied to the local charity shops. For example, there's higher probability to encounter an educational monster when you're close to a school or library. It helps raise awareness of local charity needs in player's neighborhood.
With its game elements of collecting items, skill-sensitive battle mechanism, at-home play mode (which Pokémon Go does not have), playful monster design, and group boss fight, current design Good Aim is an enjoyable gaming experience regardless of its charity elements, which would attract a vast majority of gamers. It also incorporates charity theme and prompts to donation, which changes both the awareness and behavior of our target users. Our next step would be creating prototypes with higher fidelity to test the actual game mechanism with users.
Limitations
Look at follow-through rate of pledges
The reason why we designed the pledge system was that we couldn't ask players to make direct in-app donation because of regulations in major mobile application stores. Therefore, transforming in-game pledges to actual donation pay-out is the trickiest part of this behavior changing game. While we still haven't figure out how to improve follow-through rate, increasing awareness of local charity already meets our short term goal, and could lead players to participate in more local charity related activities regardless of the donation system.
Integrating non-monetary donation
Because the pledge system is more like a short-term workaround to solve the money flow issue caused by app store regulations, we are thinking about other possibilities for players to contribute to charity. For example, voluntary work, or physical resource donation. Another possible workaround is in-game advertisements, which is widely adopted by lots of free mobile games, but we are afraid that advertisements might ruin the gaming experience and might be contradictory to the charity context.
Team
Meet my team! We only worked as a team in the first quarter for 7 weeks, but they had been the strongest support I had since then during my grad school journey.
Wei-Hung Hsieh (Left): Character/Item Design, Storyboard Illustration, Interaction Flow, Research, Prototyping (Framer.js).
Michael Frampton (Center): Game Mechanics, Wireframe, Animation. He also made the interactive prototype of donation pledge. Mike's currently an interaction designer based in Utah.
Erica Queen (Right): UI Illustration, Graphic Design, Asset Manager. She turned my sketches into beautiful colored designs. Erica's a UX & product designer based in Seattle.
Instructors
Linda Wagner, Senior Lecturer, HCDE, University of Washington
Justin Hamacher, Lecturer, MHCI+D, University of Washington
Autumn 2016 MHCI+D Ideation Studio Project
 
Reference
[1] David A. Lishner and E.LL. Socks. Empathy-Altruism Hypothesis. Retrieved on November 3, 2016 from http://ericboonesarchi.sourceforge.net/Archive/Empathy-Altruism%20Hypothesis.pdf
[2] Anon. Feeling Good about Giving: The Benefits (and Costs) of... Retrieved November 3, 2016 from http://www.hbs.edu/faculty/publication files/10-012.pdf
[3] Albert Bandura. 1977. Social Learning Theory. Prentice Hall, Englewood Clifs, NJ.
[4] Katrin Prager. 2012. Understanding behaviour change: How to apply theories of behaviour change to SEWeb. Scotland, United Kingdom..