Summary
A web app that helps you improve public speaking skills by addressing three key aspects: developing structure, practicing delivery, and getting feedback.
Time
02/2017 - 08/2017
Duration
24 Weeks
My Responsibilities
Primary: UX Design, UI/Visual Design, Video Editing
Secondary: Prototyping, User Research
Tools
Sketch, Photoshop, InVision, Final Cut Pro, Keynote
Follow auto-generated structure with expert prompts and best practices, or choose to customize it however you like.
Drag and drop section cards to organize your outline with ease.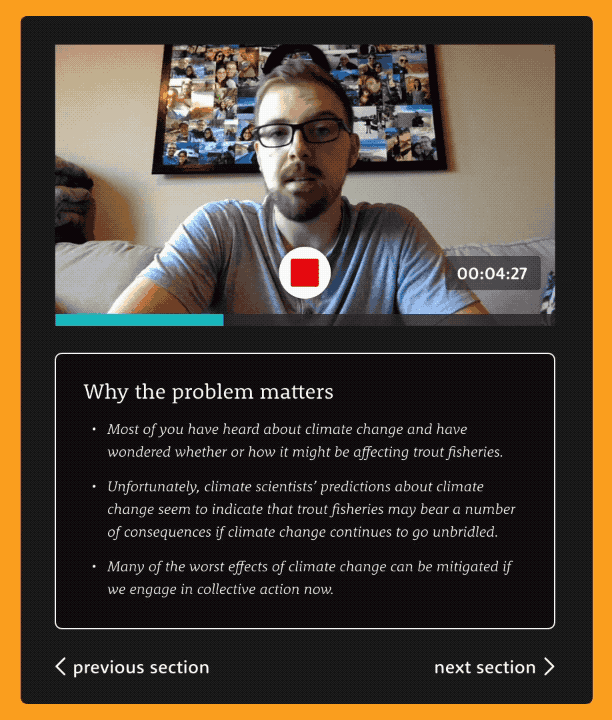 Analyze voice quality data to make precise refinements to your speaking style, and avoid red flags that you didn't notice.
Record practice with outline at hand. Scrub through video with data visualization.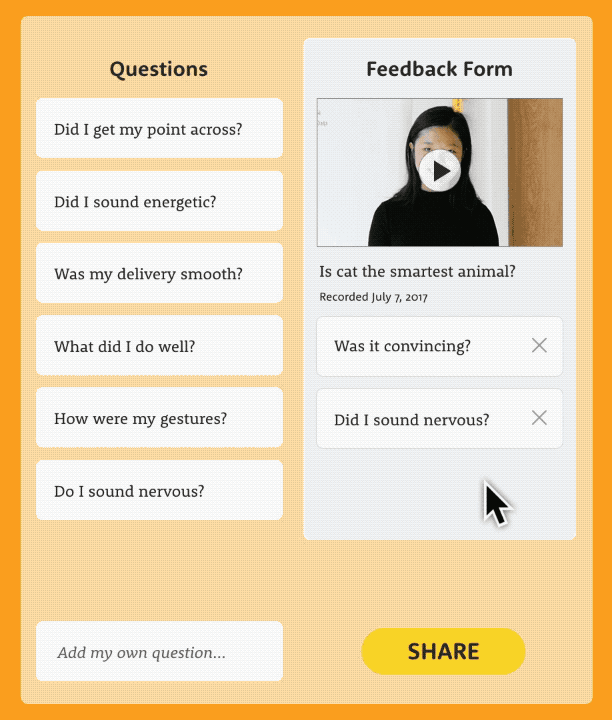 Create feedback form with system suggested or customized questions. Share the video and form with your friends.
Drag and drop questions to create feedback form. Share by sending link via mail or text.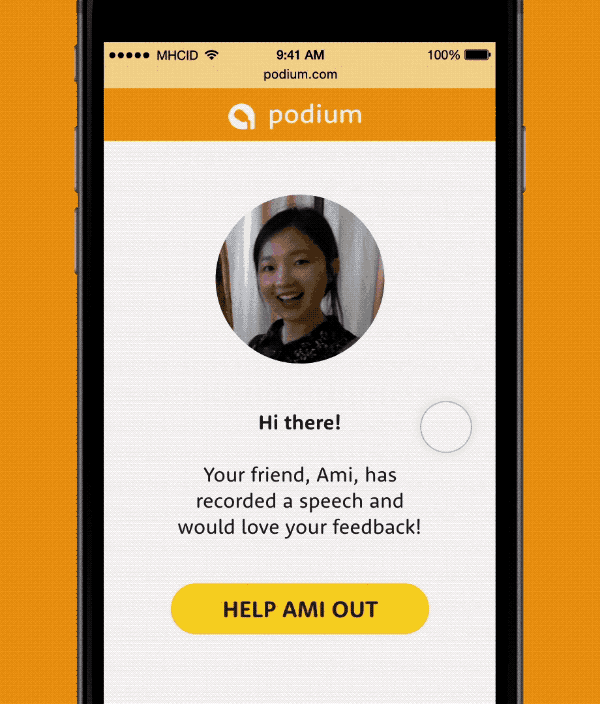 Leave inline reactions and qualitative feedback on friends' video recordings within your web browser on any device.
Tap emoji to leave inline reactions to the video. Fill in the feedback form by typing.
How might we enhance the efficacy of speech preparation through an interactive and personalized approach?
Oratorical proficiency is considered to be an extremely valuable skill, but only 28% of employers thought that graduates were well-prepared in oral communication upon entering the workforce[1]. Even in a university setting, public speaking can be challenging to teach and learn due to time and space constraints.
In our research, we learned one of the key links to learning speech skills is effective preparation.
Unlike writing, speaking is a much more social form of communication.
It has a unique and sequential workflow. No step is skippable.
There are no shortcuts. Learning public speaking requires sustained practice.
Most tools fall into one of these categories.
1. Inaccessible (high entry barrier) due to extra expense, or time and space constraints.
2. Too general. Most tools ignore users' unique strengths and weaknesses, as well as their topic and context.
3. Too narrow in focus. Many of them only address certain aspects of the speech prep process, such as timing.
Therefore, our goal is to create a tool that is:

approachable with lower entry barrier (time/space constraints, expense),
personalized to fit each user's unique skill level and context, and
comprehensive so key aspects in speech prep are all covered.

And we're calling it podium. (All lowercase. It's official.)
Before interviewing actual users, we started from identifying key players in the problem space by conducting Stakeholder Map, and then interviewed Subject Matter Experts to gain a holistic understanding of the problem space.
We created a User Journey Map to illustrate the Behavioral/Emotional/Cognitive process of speakers, which was based on Participant Interview with 10 students from diverse academic background.
To further build empathy with speakers and find insights that we might miss in participant interview, we also conducted Field Studies to immerse ourselves in the field and record noticeable phenomena.
Structure and organization can be hard.
Our participants struggle with structuring their content in an engaging way. Some of them would love to incorporate storytelling skills but it requires creativity and can be time consuming. Also, most people disproportionately assign value to either content or style, ignoring structure altogether.
Good practice is more than memorizing a script.
Self-assessment aids improvement but students lack the knowledge or motivation to do this properly. For example, watching video recordings of speeches is a powerful method for helping students assess their skills but they are either unaware of the option or they choose not to do it.
Those close to us don't give us the best feedback.
Clear and objective feedback is highly valued. However, access to it is often scarce and expensive. Family and friends, a more common source of feedback, tend to make shallow or overly-positive comments because they lack a framework to provide meaningful and actionable feedback.
Developing structure, practice, and getting feedback are the major challenges that people have with speech preparation, and are the key aspects in the speech prep framework, so we'd like to address all three of them with podium.
IDEATION
We went through 4 stages of ideation, and narrowed down more than 60 ideas to 2 final concepts.
Cross-team Ideation
Activities: Worst Ideas, Crazy 8s, Braiding
Goal: Diverging and gather as many ideas as possible
Internal Team Ideation
Activities: Concept Generating Matrix, Concept Sort
Goal: Converging and find ideas worth pursuing
Concept Refinement
Four initial concepts after the converging process..
Final Concepts
We picked Speech Builder as our final design concept due to its high desirability and versatility.
Elements of Feedback Tool were also incorporated to complete the three most important aspects of public speaking.
DESIGN
Wireframes / Low Fidelity Prototypes
In this phase, we created 3 sets of low fidelity prototypes to validate different design aspects of podium.
1. General Approach: Linear vs Non-Linear; Desktop vs Mobile
Participants preferred the simpler interface design and linear workflow like Option 1, while the voice analysis feature in Option 2 was also highly praised. On the other hand, it felt more natural for participants to type on a full-sized keyboard as the major input when they were editing the outline, so we chose to make podium a web app.
2. Flow: Test the clarity of flow.
The primary user flow is to create a speech by outlining, practice by video recording, and share the video to get feedback. However, should this workflow be one-directional? For example, should we require users to compose an outline first, in order to unlock the practice mode?
We created an interactive prototype with InVision for users to click through.
Practice to Feedback: It had to be linear, because it doesn't make sense to get feedback without a video recording.
Outline to Practice: Some experienced participants didn't really do outlining before they practiced, but most of them agreed that outlining is important at least for beginners. So we still require an outline to unlock the practice mode.
Practice to Outline: After practicing, you might want to go back to adjust your outline. So it's bi-directional.
Feedback to Practice: Feedback is tied to specific video recording, so there's no way to change it if you have already ask for feedback.
3. Content: Validate the educational content provided in our tool
Generally, our participants found the education content handy even if they didn't need them all the time, but it was something that kept on reminding them to have a goal and structure in mind, which was very helpful.
Architecture
After testing the basic interactions and flow with low fidelity prototypes, we created Site Map, User Flow, and Hero Flow as the basis for high fidelity prototypes that we were going to create in the next phase.
High Fidelity Prototypes
We created interactive prototypes with Principle to test the micro interactions in each feature module.
Build an Outline
A learning tool that helps beginners structure effectively by generating a customized outline based on the type of speech, and providing personalized tips. Also a flexible and customizable canvas that accommodates different levels of use.
Record Your Practice
Make precise refinements to your delivery style by analyzing and reflecting on vocal qualities such as pitch, pacing, clarity and filler words. Easy navigation with interactive data visualization or auto generated transcript of your practice.
Ask for Feedback
This feature provides a framework to easily get/give meaningful and actionable feedback. Podium suggests questions you can ask based on the type of speech you're giving. Feedback form will be sent along with your practice video as a link via text or mail.
Give Feedback (Mobile)
Reviewers can leave in-line reactions with emojis as they're watching your practice video, making this experience fun and easy for both sides. After watching the video, reviewers will be asked to fill out the form you create, to provide qualitative feedback.
Check Feedback
Check reviewers' responses to the questions on your feedback form.
Navigate your practice video with inline feedback, so you can make refinements to specific part of your speech.
Goal 1
Integration with software for making slides and presentations.
Goal 2
Quick challenges for learning even if there's no speech to give.
Goal 3
Features for group presentations.
Goal 4
Importing any video/audio for voice analysis.
Goal 5
Mobile companion app for practice on-the-go.
Reference
[1] Scott Jaschik. 2015. Well-Prepared in Their Own Eyes. (January 2015). Retrieved May 30, 2017 from https://www.insidehighered. com/news/2015/01/20/study- nds-big-gaps-between-student-and- employer-perceptions
For more detailed information about the process of podium, click RESEARCH on the right or use the navigation bar on top of this page.